Discover the Perfect Footwear to Light up Your Diwali Look
The festival of lights, Diwali, is almost upon us. It is a special celebration in India that signifies the victory of light over darkness, good over evil, and knowledge over ignorance. Diwali is one of the biggest Hindu festivals of the year; it goes without saying that we want to prepare ourselves to dress up for all the festivities. If you are a fashion enthusiast, then you probably know what's a good Diwali outfit without the perfect footwear to complement it. The right footwear plays a vital role in elevating your ethnic look.
However, if you are tired of styling the same cliche heels and pumps with your Diwali outfits, it's time to explore something new and more ethnic with Pastel & Pop. From beautiful flat sandals for women to quirky ethnic juttis, we have it all in our collections that will leave you in awe. So, let's explore some of the best picks in footwear for this year's Diwali look.
Footwear for Your Dazzling Diwali Look:
Amalfi
Add a peppy touch to your Diwali look with our gorgeous and stunning Amalfi sandals. These beautiful and unique sandals boast a neutral base, which is adorned with a vibrant tapestry of colorful sequins, beads, and threads, all are beautifully handcrafted into a stunning boho pattern. The embroidery of the flat sandals is so elegant that it effortlessly compliments any outfits you choose to wear on Diwali.
Jazz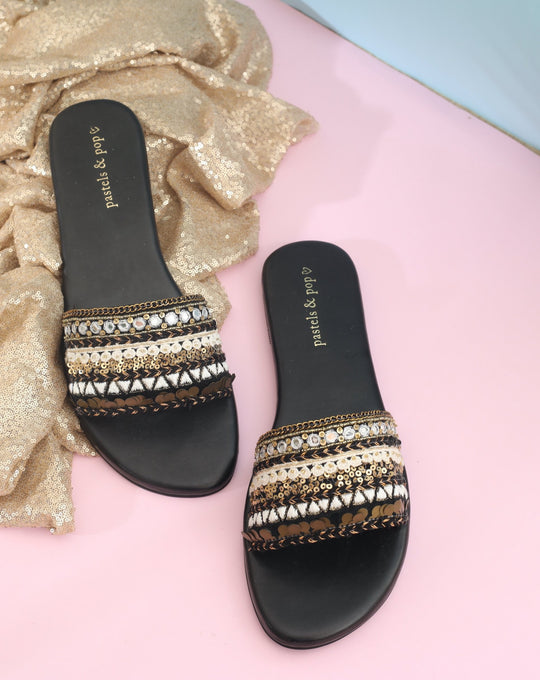 If you prefer a more vibrant and playful look, then the Jazz sandals are the ideal choice. This exquisite flat sandal in black and golden color features a unique and eye-catching design. The intricate gold detailing over the sandals and sequins work makes it a perfect choice for those who like to stand out from the crowd. If you are wearing a black or golden-colored outfit this Diwali, then our Jazz flat sandals for women will be your ultimate choice.
Sparkle
Another beautiful jutti that will amp up your Diwali ensemble is this sparkle jutti. If you love all things shimmery, then this jutti is your dream come true. With glittery and shimmering embellishments, this jutti is the ultimate epitome of glamour and style. These sparkle juttis ensure comfort and style, both in perfect sync. Whether you want to pair them with a palazzo set or your kurta pants, these juttis are your ultimate choice for a sparkling Diwali head-to-toe look.
Maroon
Juttis are one of the most loved ethnic footwear, and pairing them with your Diwali outfit is an even more fantastic idea. Our very aesthetic and beautiful maroon designer jutti is a stunning amalgamation of modern and traditional aesthetics. The rich velvety maroon texture, intricate embroidery, and comfortable fit make it a perfect choice for Diwali festivities. These maroon juttis are just perfect if you are wearing an anarkali suit or a saree to enjoy festivities. It is a perfect pair of footwear if you are looking for something flashy.
Layla
Another beautiful and quintessential footwear for a special occasion like Diwali is our Layla juttis or jootis. Featuring intricate thread embroidery with a wide spectrum of colors, this floral jutti on a blue base is your ultimate pick for any Diwali outfit of your choice. The jutti also features fine pearl embroidery that brings out an ethereal look in an understated manner. If you prefer a more contemporary take on juttis or jootis, then Layla jutti is a must-have. Pair it with a stylish saree or an indo-western dress for a fashionable look.
Sairah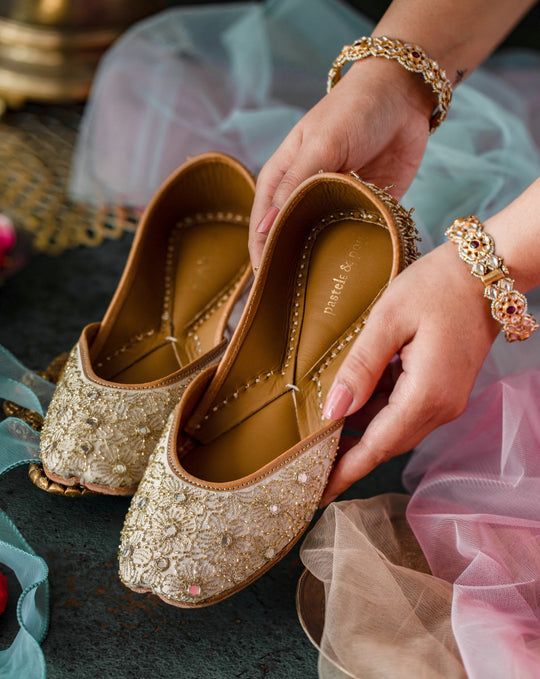 Last but certainly not least is our amazing Punjabi designer, jutti Sairah. Just like its name, this jutti is a delicate and elegant choice for an occasion like Diwali. The juttis boasts a tissue base and features a mesmerising interplay of floral embroidery in a delicate jaal pattern on the entire jutti. This top-notch artisanal jutti is a dressy footwear that goes with everything. Whether you are wearing an angrakha suit or a dhoti pant fusion dress this Diwali, you can compliment your every ethnic outfit with our Sairah juttis or jootis.
Final Thoughts!
So, this Diwali 2023, make sure to light up your look with the perfect footwear from Pastels & Pop. Our collection of stunning flat sandals and designer juttis is sure to add that special sparkle to your festive ensemble. After all, choosing the right ethnic footwear is not just a point of fashion but also comfort. Choose from our comfy sandals and juttis to dance under the light of Diwali. Explore the festive collection at Pastels & Pop today!
---