Classic Collection of Women's Designer Flat Sandals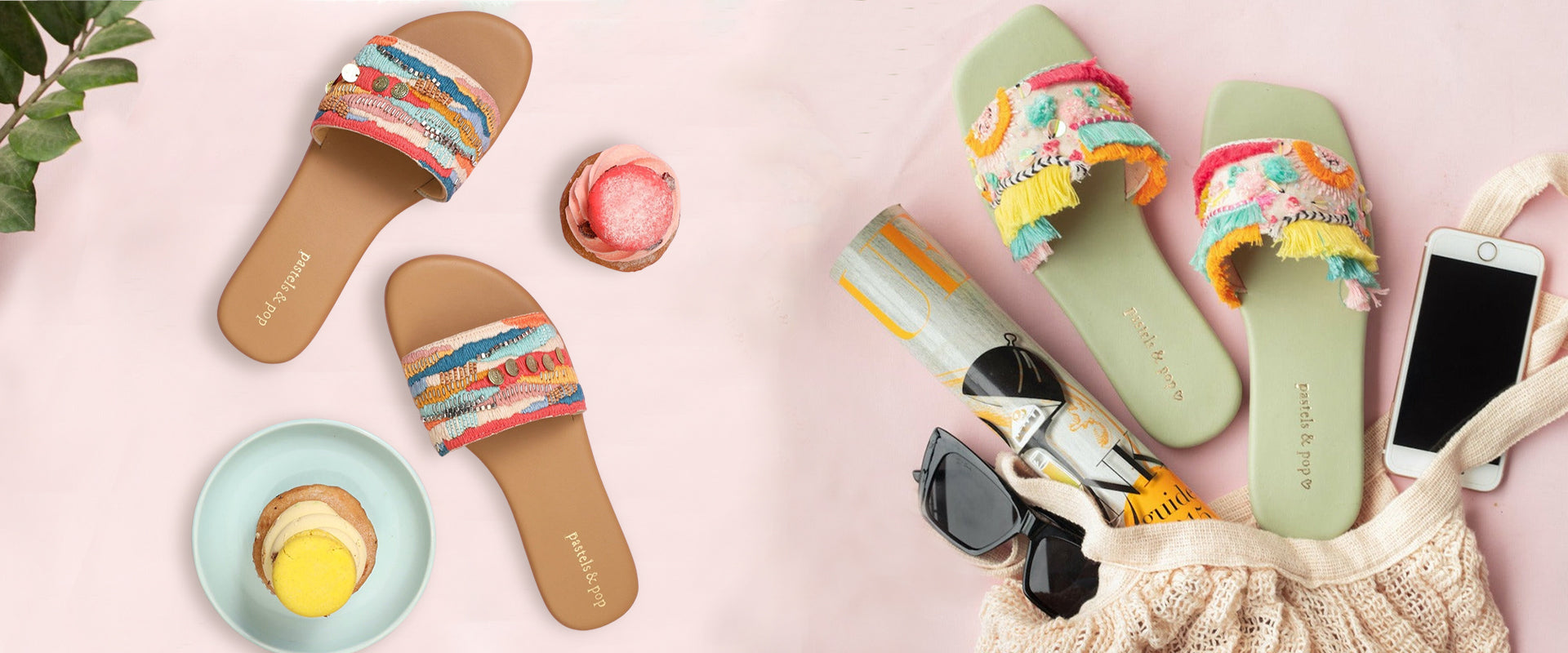 Every woman has a stunning footwear collection in heels, flats, low heels, pencil heels, and whatnot. Aren't we all fond of having sandals matching every outfit? For casual wear or occasions, they have something that brings out the elegance of any outfit. How would you like to add some flat sandals for women to your footwear collection?
The dazzling sandals can create the most sensational look for your outfit, and one can also style this footwear for casual purposes, such as a day out with friends at the beach or a festive party at your office; the perfect addition for any occasion. This blog explores the different designer flat sandals that add sophistication and grace to any of your outfits.
Here are The Embellished Sandals To Pair With Any Attire
Amalfi Designer Sandals
The Amalfi coast inspires the name and designs of the sandals in Italy. The design of the flat sandals features a neutral base embellished with a vibrant tapestry of colourful sequins, beads, and threads, hand embroidered into a stunning Bohemian pattern. The embroidery of the sandals is perfect in its way, effortlessly complementing any outfit you wear. The sandals are double cushioned with Italian rubber, making them comfortable and more accessible for long durations.
Style Your Foot Into Jazz Sandals -
Flaunt your style with these jazz sandals and bring out the modern you. The pattern blends with coins, mirrors, sequins, and laces, bordered by black, off-white, and antique golden chains, on a bed of black suede. The jazz slides feature a Bohemian style, making it the perfect addition to your footwear collection. The designer flat sandals bring comfort to your feet with a double layering of cushions and style that none can match.
Dazzle Your Outfit With These Slides -
Dazzle was created with a blend of edge and being mixed in sandals. The slides are sequined and fully embroidered in four shades of gold with a light touch of silver. The dazzling pair of sandals are perfect for weddings and occasions that require you to wear such outfits and footwear. The slides are the right option to pair with ethnic wear like sarees and suits to create an outstanding look for the day.
Sparkle Footwear For Your Outfit -
Make a sparkling statement with these flat sandals for women. The design of the sandals has a combination of elements such as mirrors, sequins, zari, and metallic, glass, and bugle beads, all delicately sprinkled on a sophisticated grey base, creating an airy brushstroke effect. These are crafted with mastery; the Sparkle showcases stunning 3D embroidery adorned with shimmering silver pieces. The detailing of the sandals will surely catch your attention. The sparkle of the sandals adds a touch of glamour to your outfit, making it perfect for any occasion and outfit.
Enjoy Summer Time With These Flats -
Stun yourself in fashion with these Summertime flat sandals. The design of the slides has a teal blue base with a serene backhand embroidered strap embellished with charming elements. The look of the slides is effortlessly relaxed and gives a carefree vibe to be in. The best part about the slides is that they match any of your outfits. Embrace the essence of Summertime with these sandals and create a look for the beach.
Conclusion -
The classic collection of women's designer flat sandals offers a combination of style, comfort, and versatility. These sandals are crafted with precision and attention to detail, ensuring they look fabulous and provide the utmost comfort for all-day wear. Pastels and Pop offer various collections in flats with different styles, colours, and materials. The best part of the sandals is that they are perfect for every outfit and help elevate your outfits.
---